The Hospital in Chiliyanaula
Shri Babaji,
manifested first as HAIDAKHAN WALE BABA (old Haidakhan Baba) around 1800 and later, from 1970 to 1984, as BHOLE BABA of HAIDAKHAN. SHRI BABAJI is a Mahavatar (manifestation of the Divine in a human body, not born of woman), who has continually manifested in a divine body on earth since the beginning of creation in order to help ailing mankind.
In 1970 SHRI BABAJI appeared in the ancient holy cave situated at the foot of Mount Adi Kailash at Haidakhan, Kumaon area. He materialized as a youth of 18 or 20 years. His divine power was experienced by several people who saw Him simultaneously in different guises at varying places. In September of that year He ascended Mount Kailash, and sat on the summit for 45 days without food or sleep, thereby exhibiting His yogic powers.
SHRI BABAJI spent most of the 14 years of this manifestation at Haidakhan where He established a beautiful ashram and built nine temples on the bank of the River Gautami Ganga. The Haidakhan area and Mount Kailash in Kumaon have been spiritually graced with the power of Lord Shiva's tapasya (penance), for centuries. The main temple at Haidakhan was constructed by Old Haidakhan Baba Himself.
SHRI BABAJI built several other temples and ashrams in India. Below Ranikhet, at a small village called Chilianaula, overlooking the snow-peaked Himalayas, He constructed a large and breathtakingly beautiful temple and ashram. Spiritual centers dedicated to Babaji have been established in over 35 countries across the world.
SHRI BABAJI proclaimed that He had come to revive SANATAN DHARMA (the eternal law of nature, the basis of every religion) and to transform every human being, laying stress on three basic precepts of Dharma: TRUTH, SIMPLICITY, and LOVE.
SHRI BABAJI put emphasis on selfless service to humanity as the highest form of Karma Yoga, and wanted to uplift the poor level of health in the Kumaon region.
SHRI BABJI departed His physical body on 14 February, 1984. He was a living embodiment of His teachings, and He left after having completed His mission. Inscribed on a stone leading up the steps to the Haidakhan Temple is His promise: "I AM ALWAYS WITH YOU."
Babaji subtle presence goes on to guide and inspire devotees to spread His eternal teachings and OM NAMAH SHIVAYA to every corner of the earth, bringing to man a spiritual message and inscribing the name of God in every heart touched by His Divinity.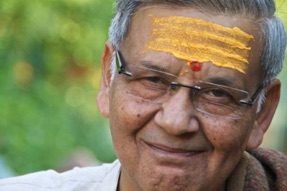 Message from the Chairman:
Dear Sisters and Brothers,
the Shree Baba Haidakhan Charitable & Research Hospital has been serving the people of the Kumaon in line with Baba's vision since 1992, under the able guidance of Shree Muniraj ji. The Eye, ENT, Dental, Pathology and General Medicine Departments have rendered yeoman service to over 300.000 patients since inception. We are deeply grateful to all who have enabled this service over the years. We encourage and welcome all who wish to contribute to these endeavors. I invoke the blessings of Shree Babaji upon all who accompany us on this journey of public Service.
Alok Banerjee
Chairman, Haidakhandi Samaj
Key services rendered by Shree Haidakhan Baba Charitable Hospital
Free cataract eye surgery is done for any economically deprived patient round the year. Outreach camps treat patients from far off and remote villages throughout the Kumaon region. Screening camps are held in villages with due regulatory permission, to access and identify patients. Patients are brought to Babaji's hospital at Chilianaula, free cataract surgery is conducted, patients are provided overnight stay and then dropped back home in the hospital ambulance.
Very soon, a Retina Centre will be added – the first in the Region.
The Genesis of Shree Haidakhan Baba Charitable Hospital (SBHCH)
UNDERSTANDING THE MEDICAL NEEDS OF THE PEOPLE OF KUMAON
A large segment of the population in the Kumaon region lives in low socio-economic conditions, with an extremely poor level of health awareness. Poor economic conditions lead to migration of the adult male population to the cities, in search of a living. When medical help is required, people are less likely to have either the family support or the means to seek assistance.
The local transport system is still far from ideal, thereby resulting in precious time being lost when medical help is needed. A delay in diagnosis naturally results in high rates of morbidity and mortality, even for simple diseases.
The people of Kumaon have a higher than average ratio diarrhea, duodenal ulcers, malnutrition, thyroid problems, tuberculosis, gall bladder stones, giardiasis, burns and lung malignancies, orthopedic injuries, dental caries and cataract.
GIVING LIFE TO THE VISION
To give shape to Shree Babaji's vision of serving the poor, the Shree Haidakhan Baba Charitable Hospital (SBHCH) had its beginnings in 1981 at Haidakhan Vishwa Mahadham, Haidakhan Village, Nainital District with the opening of a charitable allopathic and ayurvedic clinic. This clinic was inaugurated by the then Governor of Uttar Pradesh Shri CPN Singh under the auspices of Babaji, whose vision included the establishment of a charitable allopathic and ayurvedic facility at Chilianaula, Ranikhet.
Giving shape to Babaji's vision, the foundation stone of the SBHCH was laid on 4 October, 1992 by Rajesh Pilot, the Union Minister for Communication at that time.
Even before the actual hospital became a reality, the Haidakhandi Samaj began to organize two annual medical camps at Chilianaula, Ranikhet and one at Haidakhan to serve the poor, from 1993, on a regular basis. The huge numbers of patients that these 3-4 day camps attracted, precipitated the need for the hospital.
Three years later, the hospital complex in its current form was formally opened to the public on 27 September, 1997 with an in-house Physician, Surgeon and Gynecologist, by Shri Muniraj ji, the spiritual head of the Samaj.
HIGH QUALITY MEDICAL SERVICES FOR KUMAON
To enlarge the scope of medical services offered at the hospital, specialists from various other streams were brought in from the best hospitals of Delhi. As a first step in this direction, the first major 6 day Cataract Eye Surgery Camp was started in 1998, in association with Sir Ganga Ram Hospital under the leadership of Dr. A. K. Grover (one of India's most renowned eye surgeons). Subsequent camps were held with technical assistance and professional guidance from Sir Ganga Ram Hospital. All the latest equipment such phaco-Laser machines were brought in and thousands of poor patients were successfully treated free for cataract at these cataract eye surgery camps which were held 2-3 times a year, from 1998-2007. The hospital became a popular cataract surgery destination in the region.
2003 onwards, patient outreach programs were organized covering a radius of 200 km to deliver free cataract eye surgeries. Patients from remote places were brought to the hospital, operated for cataract and dropped back to their homes the next day. In addition to eye camps, regular camps covering other disciplines such as General Medicine, Orthopedic, Dental, Gynecology, Pediatrics, ENT & Diabetes were also conducted at Chilianaula, Ranikhet.
The Retina-Klinik
International research over the past few decades has led to a better understanding of retinal disorders. As a result of such sustained efforts, most retinal diseases are amenable to treatment today.
Surgical, diagnostic and management expertise required for treating retinal diseases is vastly different from that needed for treating other eye diseases, thus creating the need for specialists dedicated purely to addressing vireo-retinal disorders. The need for such specialized care of retinal diseases is particularly important in India – the diabetic capital of the world.
The urgent need for specialized care for retinal diseases has prompted the hospital to set up a dedicated Retina Center under the supervision of an experienced Vireo-Retinal Surgeon
Common retinal diseases and conditions include:
To service patients with retina ailments, the hospital is investing in the following state-of-the-art equipment:
Fundus Fluorescein Angiogram (FFA).
Optical Coherence Tomography (OCT).
The new Retina Centre: the first-of-its-kind in the Kumaon region!
The Eye-care and Eye Surgery
Department of the SBHCH offers excellent modern diagnostic, therapeutic and rehabilitative services. The hospital works to eradicate blindness among the poor in the Kumaon Himalayas, by building an accessible, model institution, with internationally approved performance standards and focused on overall quality and excellent patient-care. Moreover, these services are taken to people's doorsteps through outreach camps in the remote Kumaon Himalayas.
Over the last 15 years, over 300.000 patients were examined and treated at the hospital and camps. Over 28.000 cataract and other surgeries have been carried out free or at lowest cost.
The hospital offers the following facilities:
Anterior segment:
1. Cataract & IOL surgery through modern
Phaco-Emulsification Machine.

2. ND-YAG laser for Capsulotomy and Iredectomy.

3. Glaucoma diagnosis through sophisticated equipment such as HVF, Gonioscopy etc. and treatment including Cryo-Laser and Surgery.

4. Corneal disease.
5.Orbit & Oculoplasty
6.Paediatric ophthalmology
7.Squint surgery
8.Refraction and orthoptics


The new Retina Zentrum:
the first in the Kumaon Region!
DENTAL CARE AND SURGERY
Suffering relating to dental ailments and poor dental hygiene is huge in the Kumaon region.
The hospital works to educate people about preventive measures and provide treatment for most kinds of dental problems. The department is equipped with new-generation dental chairs, dental x-rays and offers the full range of treatments needed by people in the region:
Prosthetic Replacement Treatments
OTOLARYNGOLOGY (ENT) DEPARTMENT
This specialty department of the hospital offers facilities for diagnosis, treatment and research of disorders of the Ear, Nose and Throat.
The department has a competent audiology section with state-of-the-art diagnostic and therapeutic equipment. Treatment at the hospital uses flexible and rigid endoscopes and fine binocular microscopes. This equipment enables the hospital's specialists to deal with sophisticated procedures such as endoscopic cauterization in epistaxis patients and biopsies of certain nose and throat lesions.
The hospital offers the following services in this department:
Pure tone Audiometry with hearing aid dispensing
Microscopic/Endoscopic Examination & treatments
Small OPD procedures like wax removal, ear piercing, nose piercing, biopsies etc.
PATHOLOGY
More than 75 tests are preformed across the areas of Biochemistry, Hematology, Serology and Urine.
All departments are fully staffed with the necessary doctors, surgeons and medical practiconers and technical staff. All equipment needed for sophisticated surgeries and procedures is present at the hospital and in the mobile vans that service the village camps.
special account for the
Chilianaula Hospital/Indien
IBAN: DE67 38060186 3403612021
BIC / SWIFT: GENODED1BRS
###PAYPALBUTTON###